Starting 2020,
"Japan First"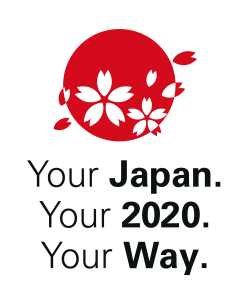 "Ozu Castle Stay" has been selected by the Japanese National Tourism Organization (JNTO) for "Your Japan 2020" special campaign program.
[call_php file='sns_share']
[siteorigin_widget class="SiteOrigin_Widget_Image_Widget"][/siteorigin_widget]
Castle Stay
Enjoy a unique experience on an exclusive atmosphere.
Ozu Castle, an Important Cultural Property, opens its doors to guest throughout the world. Guests will be able to admire its carefully restored architecture as well as the atmosphere and grandeur that surrounded Japanese daimyos during the Edo period, the way Kato Sadayasu did upon his entrance to the castle in 1617. Garyu Sanso, a tea house villa overhanging the Hiji River and also declared Important Cultural Property, will be exclusively available to guests to further enhance their overstay experience.
\Limited to 30 stays (up to 6 pax) during the first year! (Apr.2020- Apr. 2021)/ DISCOVER
[siteorigin_widget class="SiteOrigin_Widget_Image_Widget"][/siteorigin_widget]
Castle Town (Jōkamachi) Stay
Enjoy a sojourn in century old mansions respectfully and elegantly restored throughout Ozu's old town.
Immerse yourself in the charms of this ancient castle town, a city that retains the sights and tastes of yesteryears while being surrounded by lush nature. We are committed to bring added value to the local community by contributing to the renovation of notable residences, carefully selected. Experience a unique hotel with sleeping units scattered across a 400 years old urban fabric.
Ozu, the small Kyoto of the Iyo region
Enjoy this secluded and refined old town bathed by the waters of the Hiji River.
Emerging during the Edo period as a fluvial harbour, Ozu attained peaks of refinement during the Meiji and Taisho eras, a time when lavish residences and exquisite pavilions saw the light under a thriving economy. All this can still be appreciated nowadays, upon a short stroll along the winding streets of central Ozu.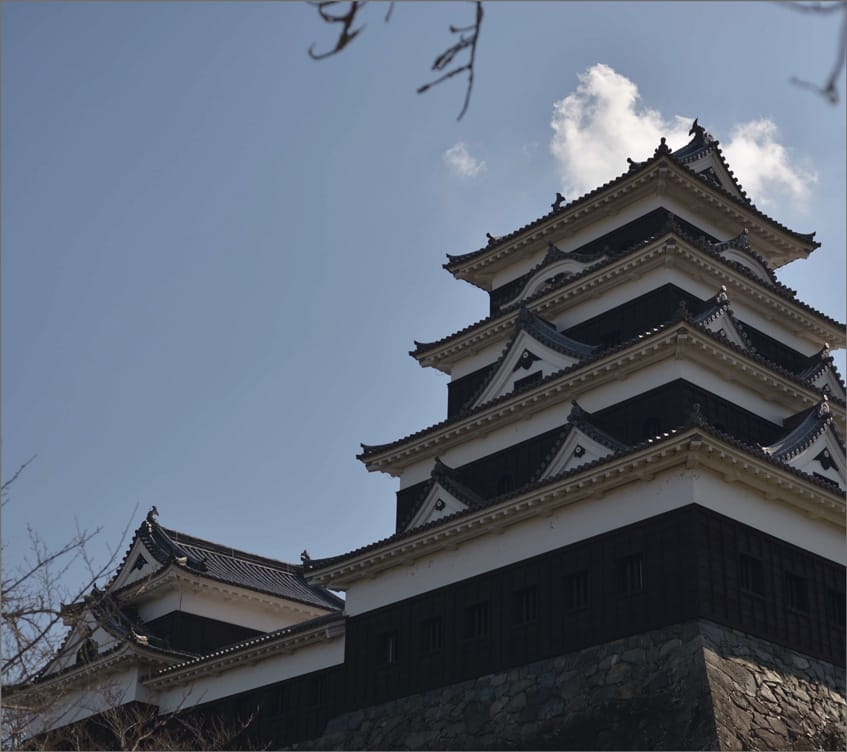 Ozu Castle
A symbol of the town on the bank of the Hiji River. The castle keep, which was once abandoned due to its aging, was completely restored thanks to efforts and donations of local citizens. Old photographs and an Edo period wooden model helped to carefully reproduce it, using original construction techniques and materials.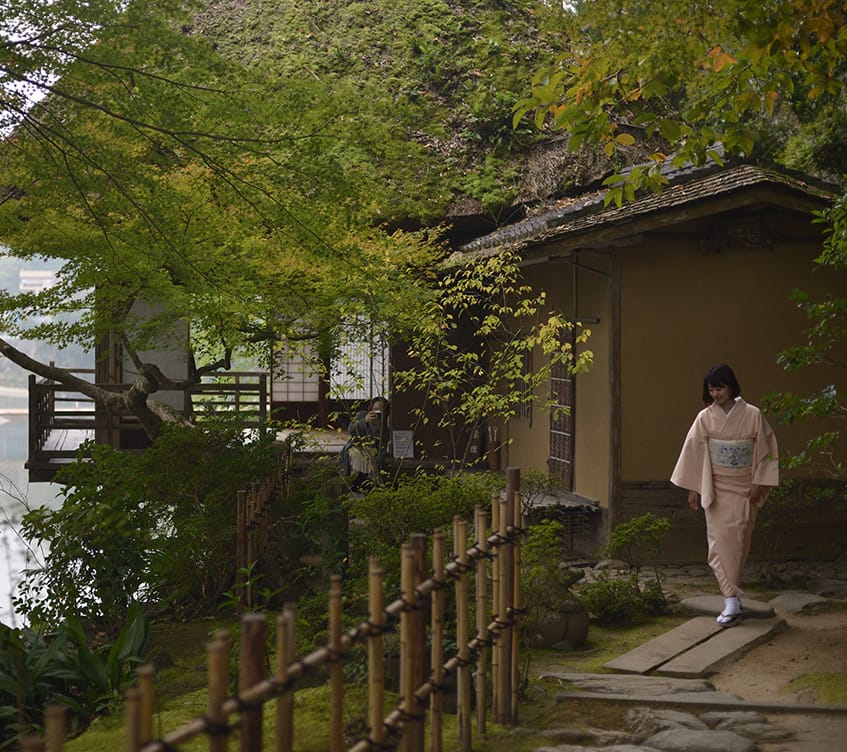 Garyu Sanso
A tea house complex, built over a decade by Kōuchi Torajiro, a local trading merchant of the Meiji era. It faces one of the most scenic spots along the Hiji River. Three magnificent pavillions, Garyu-in, Furo-an and Chishi-an, are wrapped by a subtle roji garden (tea house garden) exuding elegance. A world away from reality awaits your visit.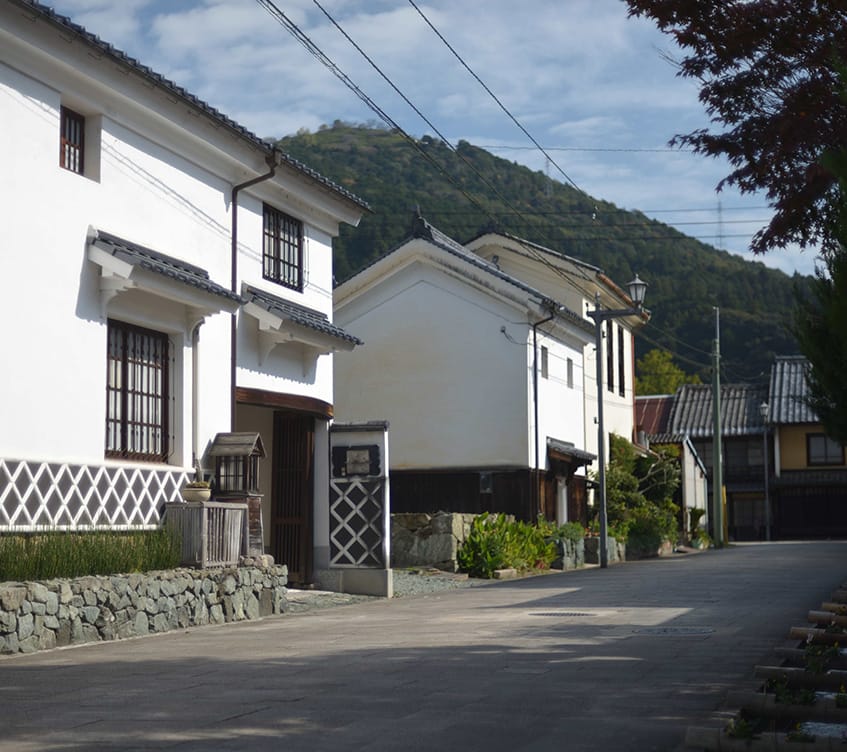 Ohanahan street
Named after the 1966 NHK morning drama "Ohanahan", as the street became its main location. It retains the original Edo period outline, in which samurai residences (on the south) shared the street with merchant houses (on the north), faintly divided by a refreshing water canal.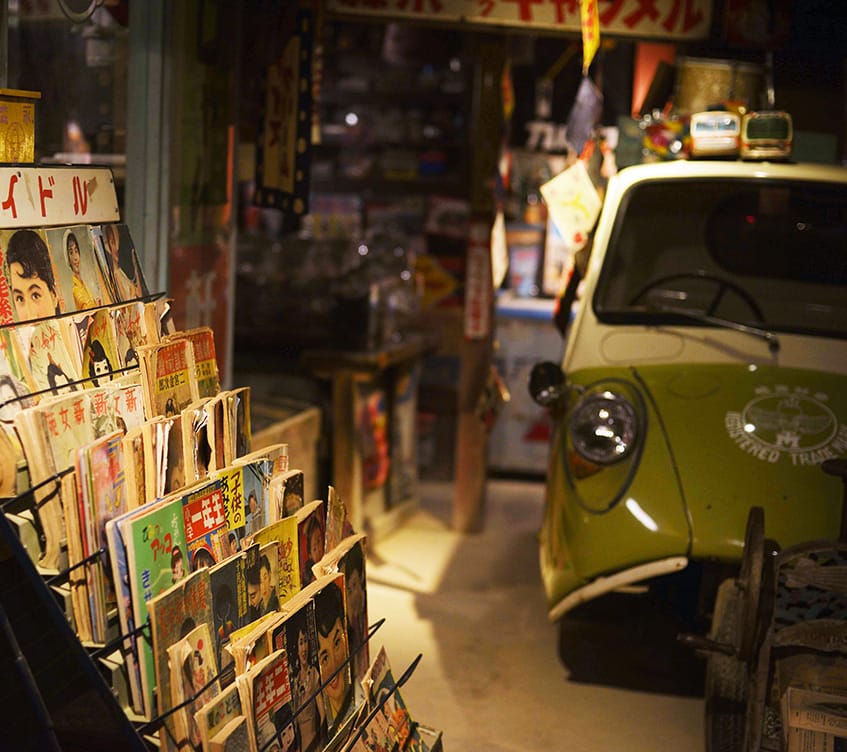 Pokopen Yokocho
A retro-pop lovers' paradise. Hosting a magnificent collection of post-war memorabilia and furniture, visitors are deeply immersed in Japan's 50's and 60's atmosphere, radiating both merriment and nostalgia. Weekly events bring out old time flavours, in the form of Chinese soba, croquettes, yakitori and many others.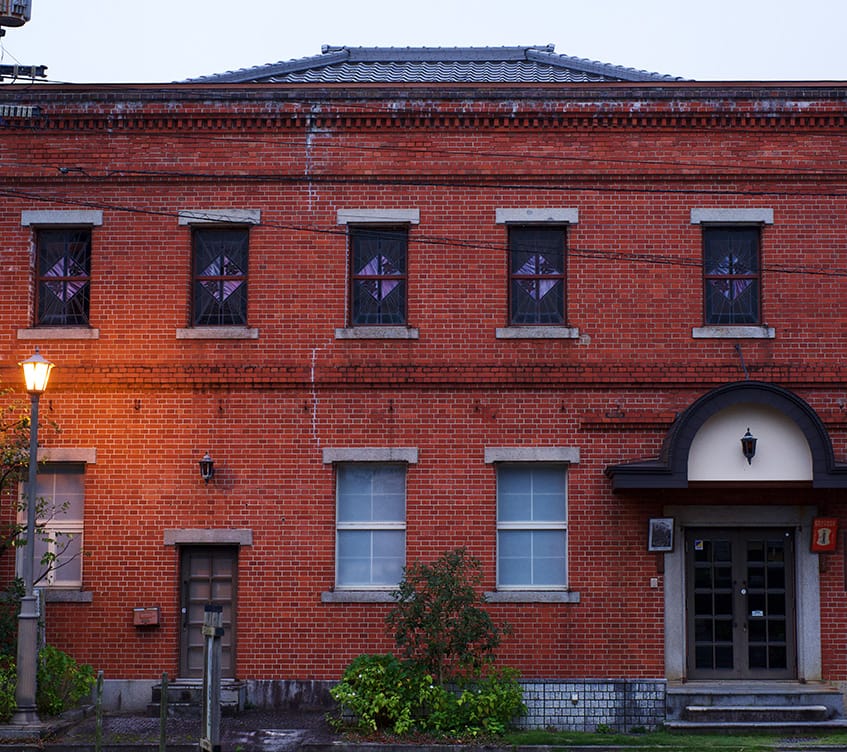 Ozu Red Brick Hall
Built as Ozu Commercial Bank in 1873, this western style building has been respectfully preserved and it can now be enjoyed while sipping locally sourced drinks in search of local crafts (Ozu washi -Japanese paper-, Tobe Ware -ceramics-, accessories, etc) perfect as memorable souvenirs.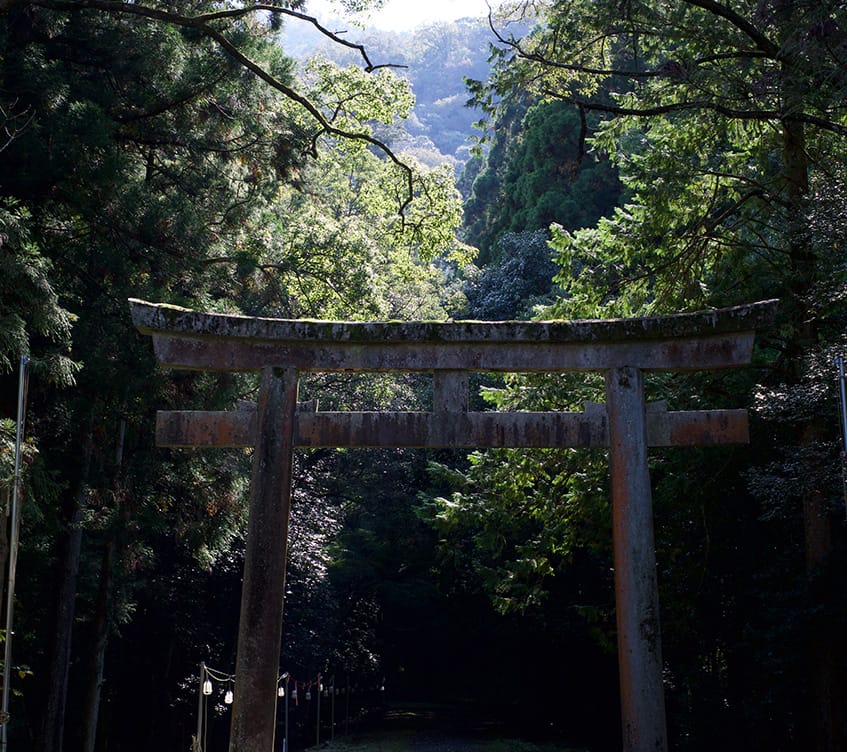 Sukunahikona Shrine
A shrine dedicated to Sukunahikona, a small deity that accompanied big Okuninushi in the construction of the World, according to Japanese folk tale legends. Said to have discovered Dogo Onsen and healed in them, Sukunahikona is strongly related to homeopathy and pharmaceutical industries. The shrine hosts magnificent edifices (Sanroden) wrapped by lavish forests.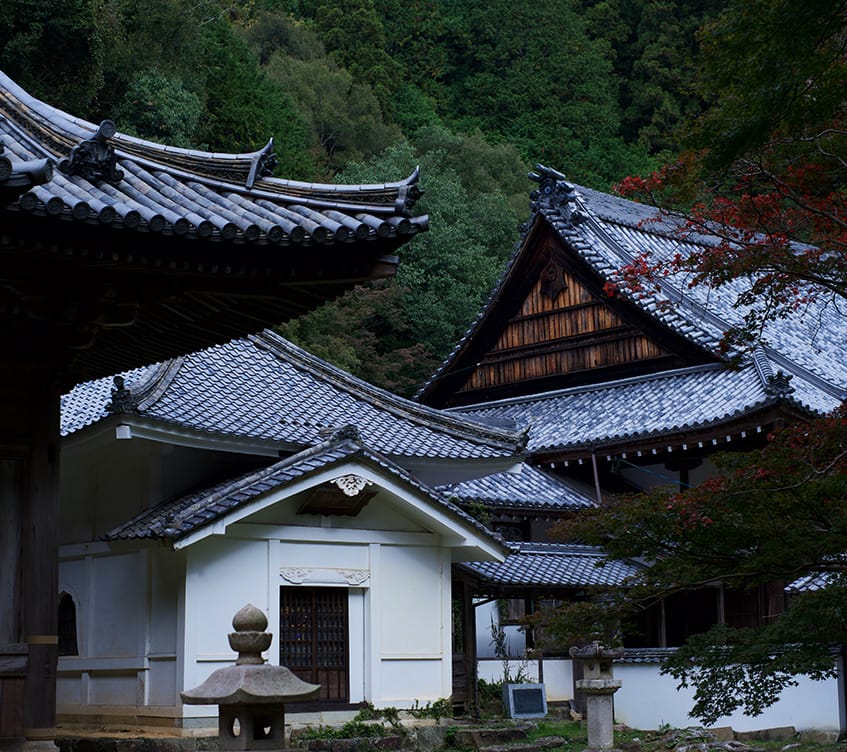 Nyohoji Temple
A Zen temple on the hillside of Mt.Tomisu designated as an Important Cultural Property. Celebrating its 350th anniversary in 2020, its Buddha Hall (butsuden) displays a soothing space in which meditation sessions are regularly conducted. Approaching it through the green carpeted visiting path (sandō) is a memorable experience.
Japan's first lodging experience on a timber keep
Castle stays in Europe abound. Most of these spaces have seen retrofits and conversions to host visitors. Here in Ozu, much care has been taken to leave the castle unspoiled while offering the best available hospitality. Ozu Castle was partially abandoned during the Meiji era. However, through donations and engagements of local residents its past glory could be restored, using original materials and techniques. Our pledge is to respect and add value to these noble commitments.
Furthermore, this gives guests the opportunity to feel as if they traveled back in time and to experience firsthand the Edo period. A scene re-enacting the entering of the castle lord (Kato Sadayasu) in 1617 will greet visitors. The welcoming of the flag-waving and the gunpowder squadrons will allow guests to immerse themselves in the role of a shadow warrior supporting the castle lord. In addition, guests will be treated to a refined breakfast in a warlord manner at the "Garyu Sanso", an important cultural property.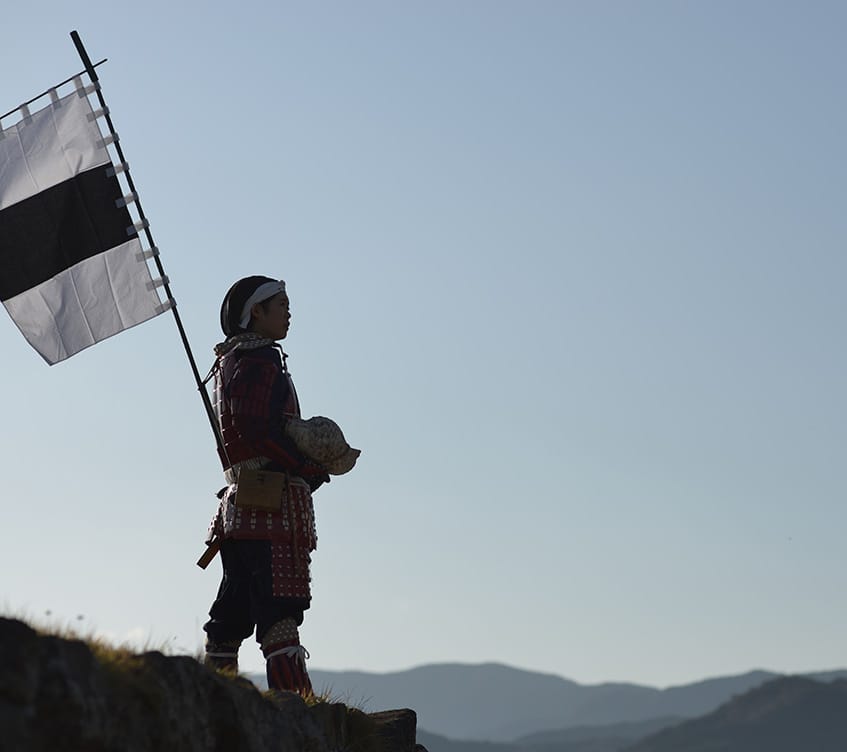 1. The sounds of the trumpet shell (horagai) signal the commencement of the warlord welcoming reception.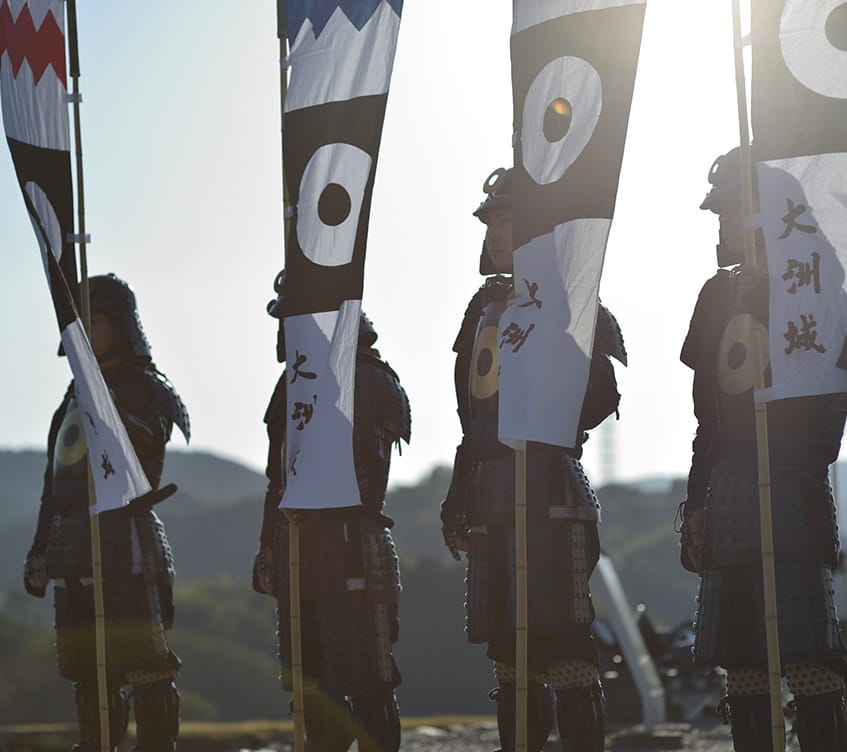 2. The flag-waiving squadron awaits the arrival of the warlord. Guest are greeted by a strictly codified waving procedure.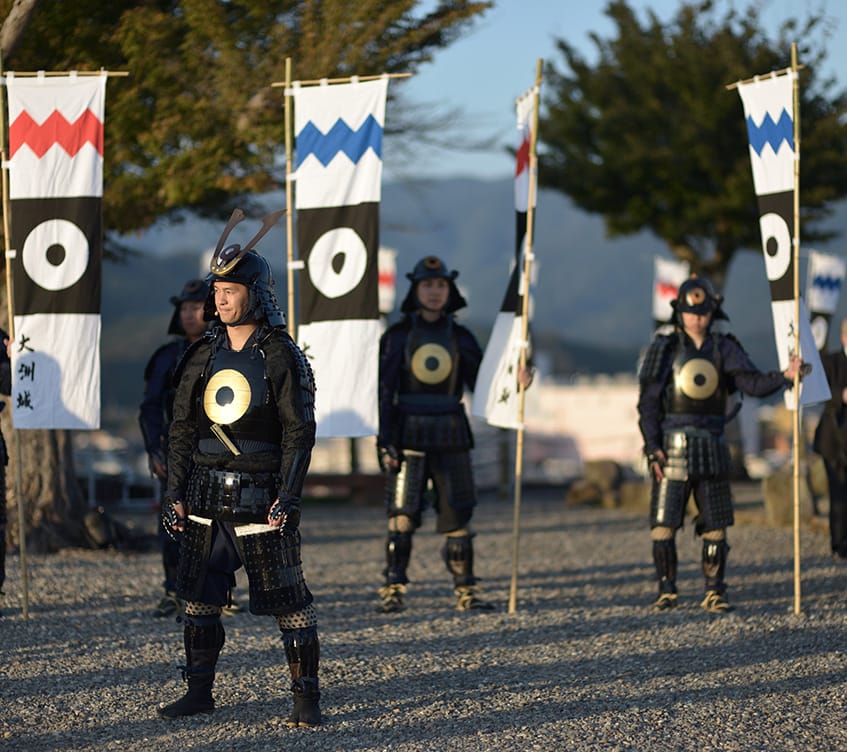 3. Gunners and waivers, including officers, positioned to welcome the new lord arriving from the Yonago provinces.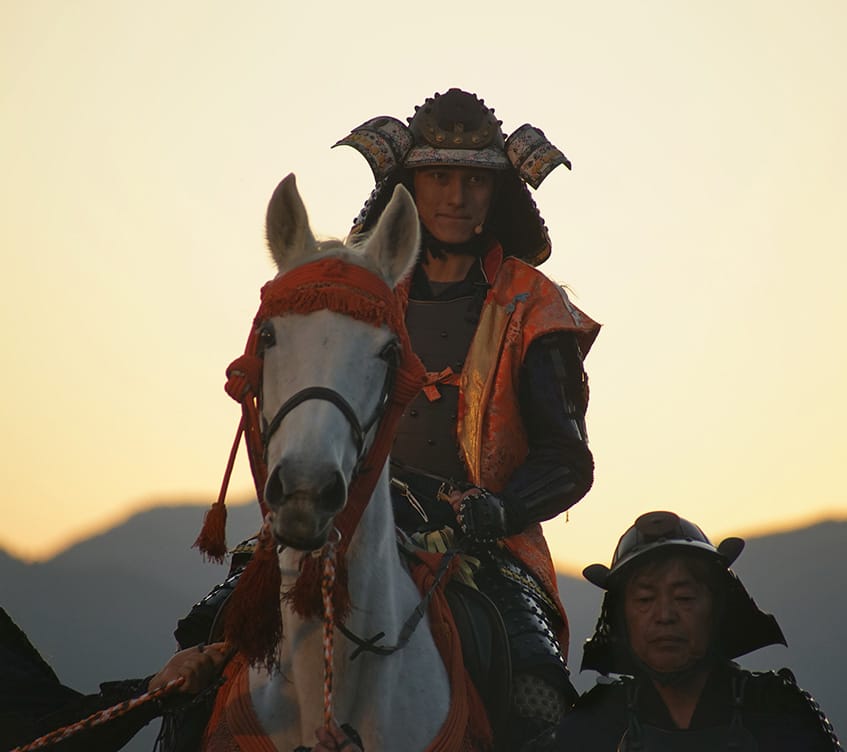 4. The castle lord, Kato Sadayasu, enters the castle on horse. Guests are rewarded with a shadow warrior certificate, handed out by the lord himself.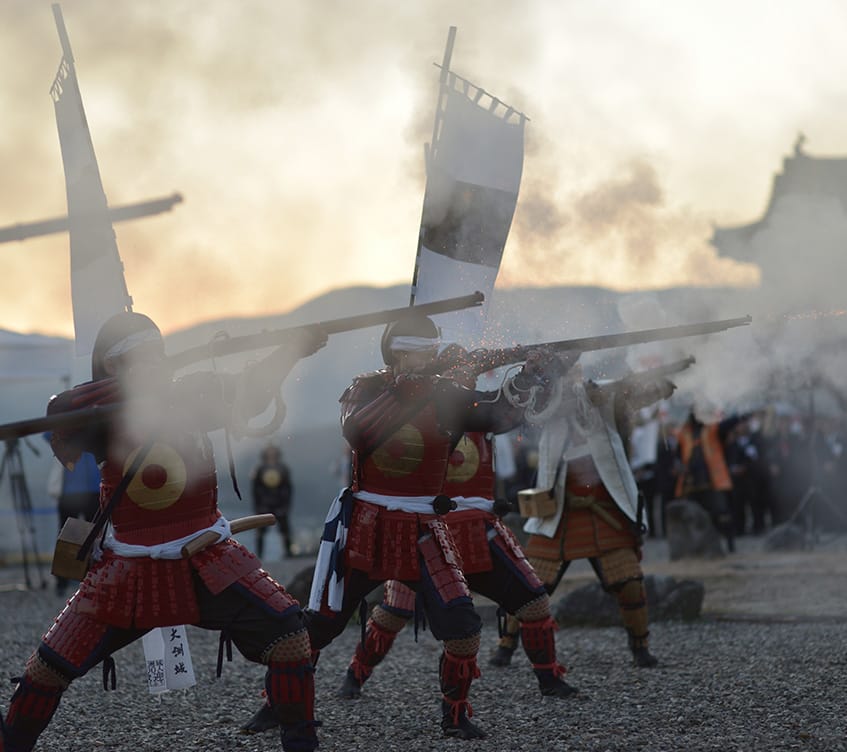 5. Gunpowder squadron fires to commemorate and announce the arrival of the lord.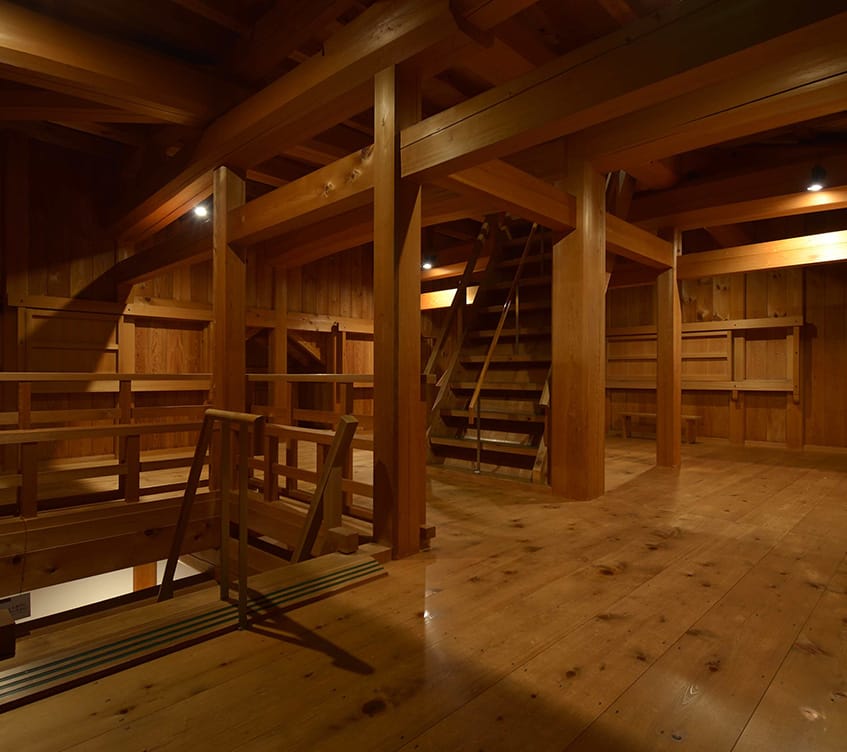 6. Castle retainers introduce to guests the outlines of the Ozu domain and the main features of the castle, with the aid of old maps.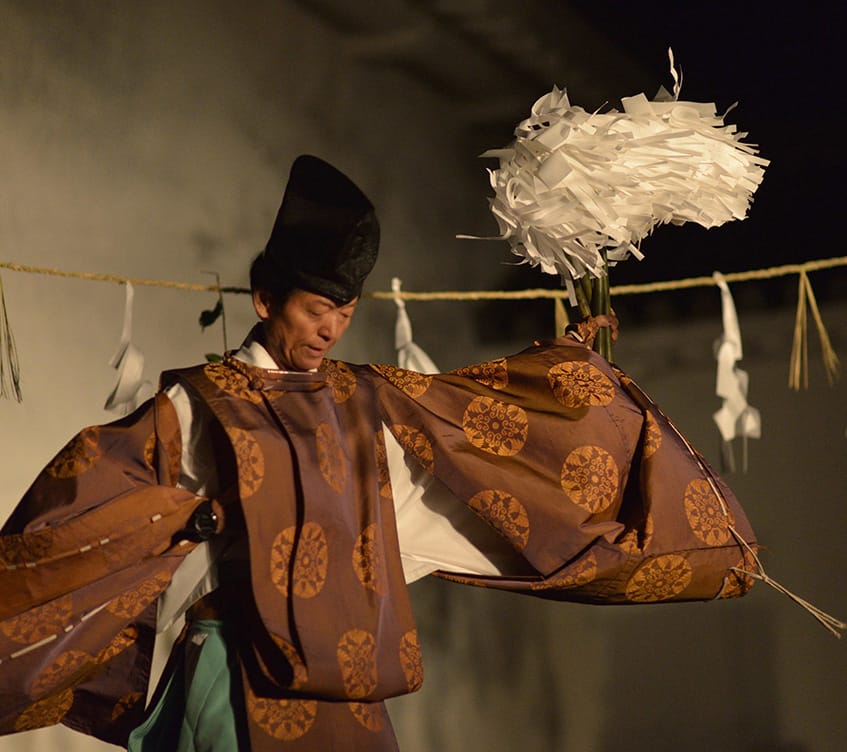 7. Local traditional performing arts will welcome guests. Customization is possible. Choose between Yamatozaka Shime Kagura (rural noh performance) or Ukai (cormorant fishing).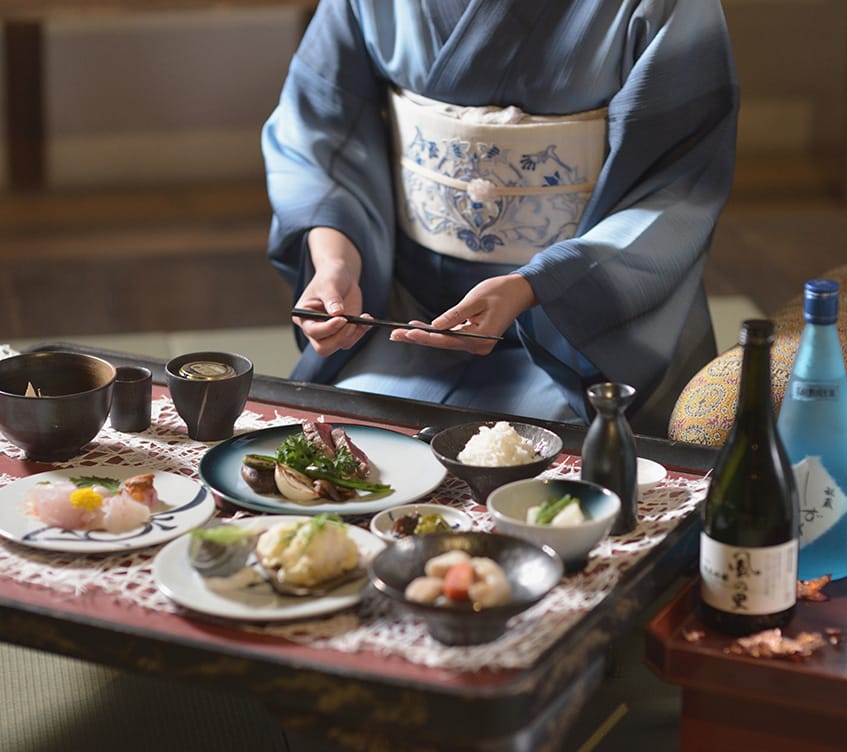 8. A full course dinner utilizing carefully selected local ingredients is offered.
9. Enjoy the moon contemplation from the 'Koran' Turret, the way the Kato lords did.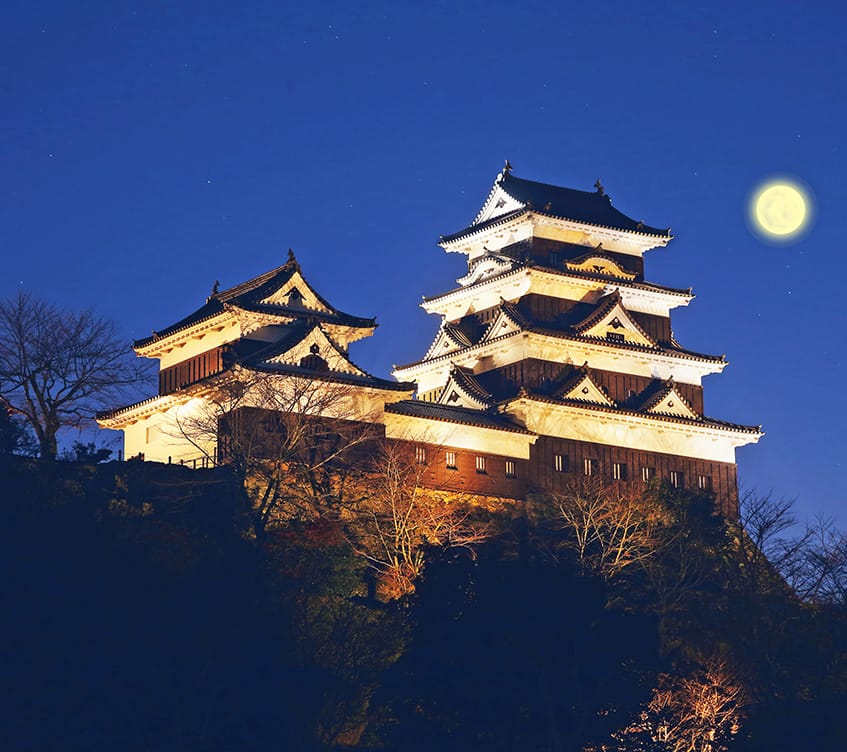 10. Indulge in a bath at a tailored made bathhouse on the castle grounds, while enjoying a fully lit up Ozu castle.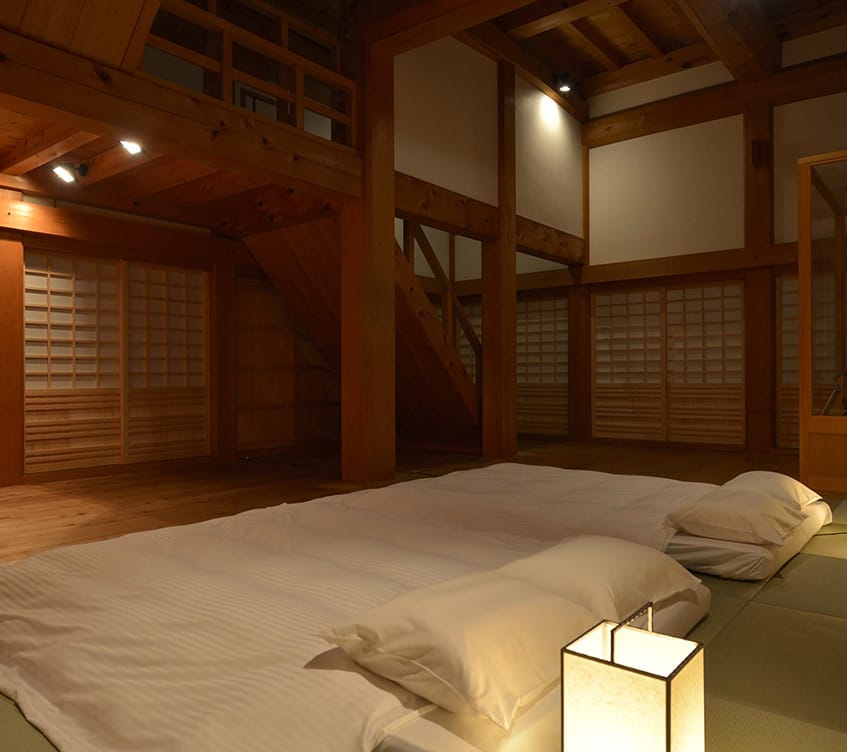 11. Kato Sadayasu, the first castle retainer of the Kato clan, might have stayed in the castle keep during the first years of his rule.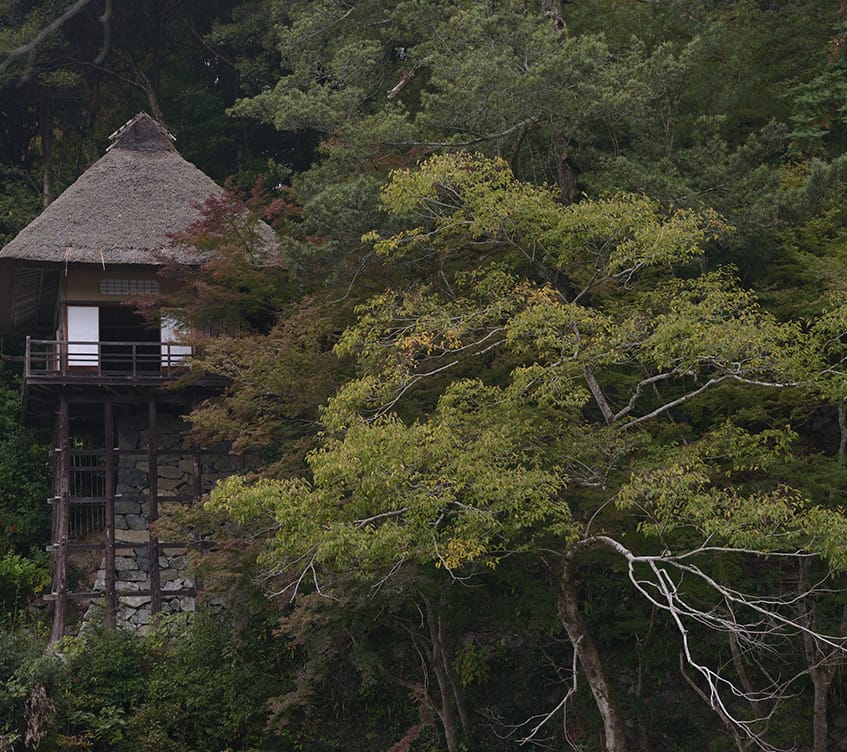 12. On the following morning, transfer to the 'Garyu Sanso' a beautifully designed tea house on the verges of the Hiji River banks. All for yourselves!/p>
13. Breakfast is served at 'Garyu In', in a Kyōō style (the exclusive dinning cuisine and manners reserved to warlords in ancient Japan).
\Limited to 30 stays (up to 6 pax) during the first year! (Apr.2020- Apr. 2021)/

Ask

(minimum charge: ¥1,000,000+tax~ for 2 people)

* Booking accepted only for 2 to 6 persons.
The above stated prices include:
Private accommodation at Ozu Castle
"1617 Kato Sadayasu welcoming reception ceremony" (Kimono and armour rental, gunpowder and flag-waiving squadrons' reception, horse parade, etc)
Traditional performing arts (kagura or ukai)
Dinner
Moon viewing experience
Early Morning Charter transfer to "Garyu Sanso" / Kyōō style (ancient warlord style banquet) breakfast
Transfers to / from Matsuyama Airport / JR Station
Inquiries by telephone and/or reservation form
Details arranged by phone or e-mail (dates, tailored activities, etc).
Payment (Credit Card or Bank transfer)
Completion of booking
Phone reservations
VMG General Office (11: 00-20: 00) GMT+9 +81 (0)120-210-289
Reservation Form
Castle Town (Jōkamachi) Stay

Phone reservations
VMG General Office (11: 00-20: 00) GMT+9 +81 (0)120-210-289
Reservation Form
Access
Ozu castle
903 Ozu, Ozu City, Ehime Prefecture, 795-0012 * Guests staying at Ozu Castle will be picked up at Matsuyama Airport or JR Station.
Ozu Castle Castle Town Hotel
* Dotted in Ozu City